Emma Rowen Rose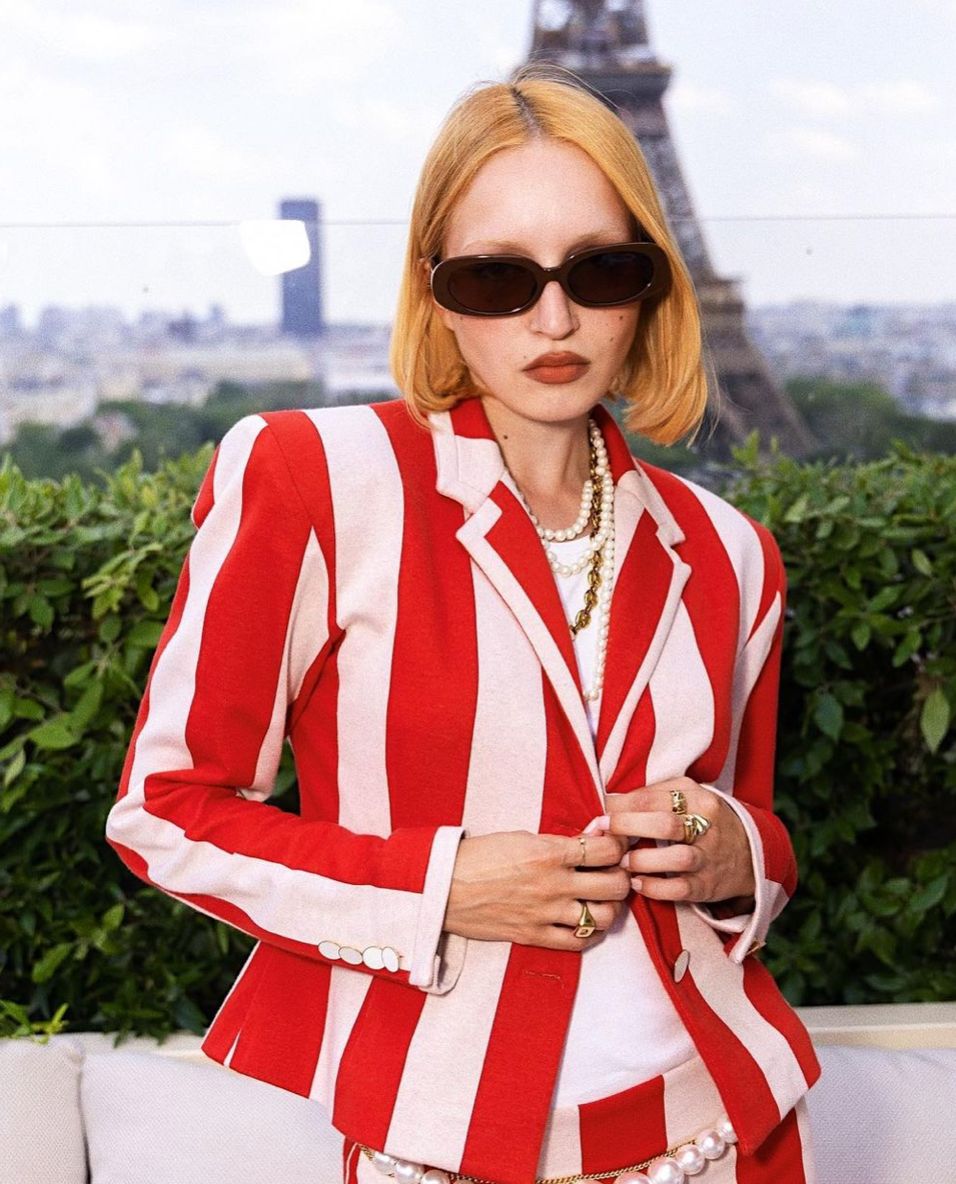 Produced in Italy, Rowen Rose is a French ready-to-wear brand created by Emma Rowen Rose. A medley of preppy, sumptuous, and playful stylings, the 26-year-old designer's collections of dopamine-inducing, vibrant garments have graced the wardrobes of fashion darlings' season after season (since the brand's launch in 2018). Attending her first fashion show at the age of 13 confirmed Emma's "extreme will to be part of this industry".
Here, Emma talks tailored jackets, designs defined by contrast, and Paul Éluard poems.
Describe Rowen Rose in three words… 
Elegant, daring, poetic. 
Who do you design for?
For anyone who loves to stand out with originality and elegance.
What do your clothes say about you? 
That I am a control freak […] my creations are very structured, always.
What impact does your multicultural background have on your designs?
A huge impact! I think the reason why my aesthetic is always a mix between two contraries comes from my multiculturality for sure. My designs are always defined by their contrast: they are always traditional yet modern, feminine yet masculine, elegant yet daring. […] My cultures have some contradictions; I'm French, from a Spanish mother, very eccentric and extrovert, passionate and a Polish father, with a more serious culture, solemn, a colder elegance.
What is your most memorable scent association?
I think jasmine flowers in my Spanish home, a scent that marked my childhood.
Do you have a signature scent, or do you prefer the idea of a fragrance wardrobe?  
I love feminine yet strong scents, usually mixing musk, vanilla with flowery smells like orange flower or jasmine flower.
Your greatest indulgence is…
I have tons of guilty pleasures; fashion might be the biggest one. I adore dressing up and, as it is my work, I have the perfect excuse now.
Where do you go to get inspired? 
Art is what inspires me the most, for sure, in its entirety. Especially poetry, cinema, plastic art, and music.
A book you'd recommend everyone read…
Derniers Poèmes d'Amour by Paul Éluard.
Garments you treasure…
My RR tailored jackets and coats. 
Things you're excited about for the future…
An upcoming fashion show, hopefully…!